Dear Customer,
Team Asista is thrilled to announce that we have released the Service Catalog Management (SCM) module via the Asista portal.
This new SCM module makes it simple to organize and categorize items into Catalogs and Categories. Let us quickly take you through how it looks and functions.
You would have noticed a new Catalogs menu added (You must enable it in Settings -> Ticket Settings) to your Asista portal navigation bar. Clicking this menu item opens up the new module, where you can add, modify and delete Catalogs, Categories and Items.

The default view is the List View, but you can easily switch to Grid View by clicking the Grid View button.

The Settings icon beside the Grid View button lets users who are Admins and Agents toggle between both modes.
Above each list is a targeted Search bar to search for Catalogs, Categories or Items. The Items section alone contains a Global Search option that you can use if you're unsure how an item is categorized and would like to search for it amongst all catalogs.

Above each list or grid view is a convenient, sorting filter that lets you sort data in ascending or descending order.
To view more details about a Catalog, Category or Item, simply click on the options beside it and select More Details.

To request an item, select Request Item while in Agent mode.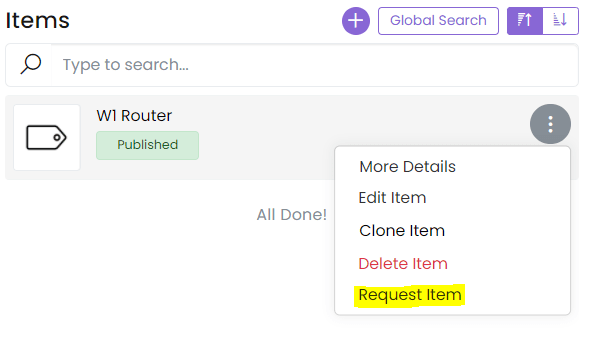 Enter any additional, required data and click the Request Item button. A new item Request is created under the Tickets menu.
(Side Note: Our pre-release e-mail had highlighted a terminology change related to Tickets. Well, with the introduction of the new, Service Catalog Management module with its Item Request feature there was a clear need to differentiate between Tickets and Requests, and this differentiation is now addressed.)
Are you eager to check out all of this new module's features and start using it for your organization? Do log in to your Asista portal to get started.
As always, we are happy to hear your feedback and suggestions at https://support.asista.com.
Team Asista