Many businesses today are embracing distributed workforces to access top talent, cut costs, and boost flexibility. However, managing a dispersed workforce can have its own set of difficulties, particularly when it comes to service management. In this blog post, we will discuss the importance of service management for distributed workforces, along with some tips on how to make it more efficient for your business with cloud-based automation.
Service Management – What is it?
Service management is the process of managing service requests within an organization from the time of the original request until the issue is resolved. Services like IT support, facility management, field service support, administrative and HR services fall under the purview of service management. The goal of effective service management is to ensure high-quality services to employees, customers, and stakeholders.
---
Optimize your distributed workforce with our service management solutions.
Contact us today!
---
Service Management – Why is it Even More Important for Distributed Workforces? This infographic needs to be created better.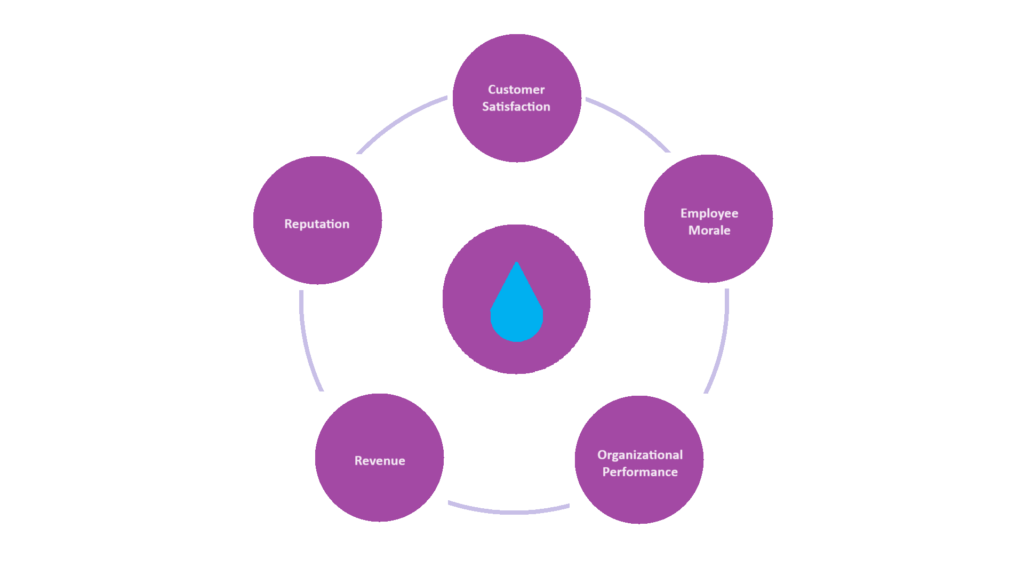 The Impact of Service Failures and Successes: A Ripple Effect:
Businesses with distributed workforces must implement effective service management strategies because workers based in various locations having varied service requirements if not managed properly, may lead to lower quality of engagement and hence lower employee and customer satisfaction. It is crucial to put in place service management processes that can give remote employees prompt and efficient assistance, to help them address their requirements better and also engage better with their customers.
Empowering employees with the right service management tools can help them provide better service to customers and stakeholders.
This can boost productivity, efficiency, and customer satisfaction. If businesses fail to prioritize service management, they may experience delays in issue resolution, increased downtime, lower employee morale, loss of customers and employee attrition.
Service management can also help identify areas for growth and streamline workflows, giving businesses the information they need, to provide even better services in the future. Service management data provides valuable insights for product and service improvement, process improvement and objective performance management.
When a service goes wrong, it can affect not only the customer who had the problem but also other customers, staff members, and even the organisation as a whole. On the other hand, a successful service can have a beneficial ripple impact that raises employee satisfaction, organisational performance, and customer experience.
Now that we have established why service management is so important for your organization that has a distributed workforce, let's discuss how to improve service management efficiency.
How to Streamline Service Management for Your Company with Automation
Centralize Your Service Desk
To ensure that all employees receive consistent support, it's important to set up a singular point of contact for all service requests, regardless of whether they come from office-based or remote workers.
When centralizing your service desk, consider using a cloud-based platform that can be viewed from any location.
Employees and customers will be able to file different types of requests with ease, and service desk teams will find it simple to manage, distribute and keep track of them.
Use Self-Service Options
In a company with a distributed workforce employees may be located in different time zones or have varying schedules. This poses one of the biggest service management challenges. To help employees & customers to resolve their own service requests quickly and easily, consider implementing self-service options.
Online knowledge bases, chatbots, or mobile apps that allow employees & customers to submit and track their own requests are examples of self-service options. This can free up staff to handle problems on their own and lessen the workload for support desk teams.
Automate Service Workflows
Another way to streamline service management for your distributed workforce is to automate service workflows. This could involve using workflow automation tools to route requests to the appropriate teams or individuals, automate notifications and escalations, and provide status updates to employees. Some of the automation tools may also be able to automate service provisioning itself, especially if the service requests are for certain information.
Automation can help reduce the time and effort required to manage service requests, allowing service desk teams to focus on more complex issues or provide higher levels of support.
Provide Clear Communication Channels
When it comes to service management, particularly for distributed workforces, communication is the key. Clear channels must be established to file and follow up on requests, as well as for support desk teams to share updates and resolutions.
To ensure clear and timely communication between teams and employees, consider using tools such as email, chat, or video conferencing. This will make it more likely that everyone concerned will be in communication with each other with the right information and that problems will be solved promptly and effectively.
Track and Analyze Service Metrics
To spot trends and areas for improvement, it's crucial to monitor and analyze service metrics. This might mean keeping tabs on things like ticket volumes, response & resolution time, customer and employee satisfaction levels, support staff performance parameters, frequently repeating issues etc.
You can find areas for growth and make data-driven choices about how to optimize your service management processes by analyzing service metrics. Metrics can also be used to support requests for more funding or resources by proving the worth of your service desk.
To sum up, service automation is crucial for businesses with distributed workforces. Automation streamlines processes, and it offers data-driven insights in addition to helping to ensure that all employees and hence customers receive reliable and consistent support. You can optimize your service management procedures and give your distributed workforce high-quality support by centralizing your service desk, utilizing self-service options, automating service workflows, providing clear communication channels, and monitoring and analyzing service metrics.
As companies continue to embrace distributed workforces, service management will become an increasingly important part of ensuring success. By following the tips outlined in this article, you can position your company for success in a distributed work environment.
How Asista Can Help
As a provider of service automation solutions, we understand the specific challenges faced by businesses with distributed workforces. So, we provide specialized solutions that can help simplify service management processes and enhance support for every employee, regardless of location.
While our data insights can provide useful metrics to help you make data-driven choices about your service desk, our automation tools can help you reduce manual processes and increase efficiency.
Our smart service automation platform integrates customer support, field support and employee support across multiple locations with flexible engagement and pricing models.
Click here to download a case study about how a large international electrical products manufacturer achieved better workforce support management with ASISTA. <insert Fuji Electric Case Study hyperlink to the Blue line and then delete this highlighted comment.>
Contact us right away to find out how we can assist your company to improve your service management processes for a distributed workforce.
---
Empower your remote team with our service management solutions.
Contact us today!
---